Developers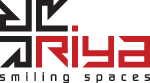 As an eminent name in the real estate arena, Riya Projects has developed residential projects that have been a class apart. Being unique to their architectural designs along with incorporating the modern technologies have added more value to living in these residential landmarks. Riya projects, by integrating the best of design aesthetics and quality standards, seeks to promote long-term sustainability and environmental considerations in all its operations and creations.

Our deep understanding of consumer needs and our inherent ability to innovate customer solutions helped us venture into retail in 1971 with Nand Kishore Pansari at the helm. In 1996, changing preferences of consumer lifestyle encouraged us to diversify into realty. This has been followed by e-retail, distribution and angel investing.
Architech

With a passion for innovation and commitment to quality, he have over 150 assorted projects in his wing that stretch from residential complexes to shopping malls, IT Parks, institutional buildings to townships. He have been recognized with the award for "Outstanding services in the field of architecture".
marketing agent

With the most comprehensive services portfolio in the industry. R.S. Realtors in keeping with their intrinsic relationship-centric business model, covers the spectrum of real estate- resulting in over 14000 satisfied customer families.